Doctor & Staff
Meet the experienced and friendly doctors and staff who make Valley Eye Clinic the leading provider of vision care products and services in Luray.

Chris Deibert, OD
Chris Deibert grew up in Annandale, Virginia and graduated from W.T. Woodson High School. After graduating from Virginia Tech in 1985, with a B.S. in Mechanical Engineering, he completed the University of Alabama at Birmingham School of Optometry, earning his Doctor of Optometry in 1990. He moved to Luray, Virginia and purchased the practice of Dr. Ed Gilbert, who retired in 1991. He scored in the top 10% in the Nation on his Optometry Board Examination.
Dr. Deibert is a Fellow of the Virginia Academy of Optometry (FVAO), having been elected by his peers for excellence and academics.   Locally, Chris is a member of Luray United Methodist Church and a Sunday School teacher. He has served on the Page County Planning Commission, and the Board of the United Way.
Chris and his wife, Missie, have 3 children and three granddaughters.
---
Dana Nealis, Receptionist
Dana joined our staff in 1999 as the receptionist. She is likely the first person you will see when you enter. Dana will handle your paperwork, arrange referrals to specialists and surgical appointments, charges and payments and answer any questions you may have with a smile.
---
Charlotte Housden-Kemp, CPOT
Charlotte joined the team in 1991 as the lab technician and later transitioned into assisting Dr. Deibert on the patient care side. She is one of only 426 CPOTs(Certified Paraoptometric Technician)in the United States having passed the rigorous national exam in 2006. This is the highest level of certification available through the American Optometric Association. Charlotte also completed an apprenticeship through the State of Virginia including college-level coursework as an Optician.
---
Tracy Black, CPO
Tracy joined us in 2005 to assist on the examination side of the office. Her background as a Certified Pharmacy Tech is valuable to patients and staff who want information on potential drug interactions and effects. Tracy passed her CPO exam after only 6 months with the practice.
---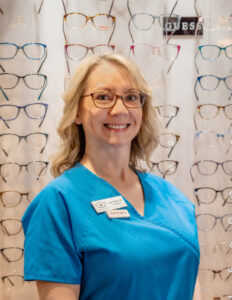 Angie Mamola-Culbertson, CPO
Angie joined us in 1996 as a lab technician and continues to do an outstanding job doing our in-house edging. We stock many single vision lenses and can edge them to fit your frame in about  20 minutes. Most other lenses are ordered uncut and edged in our office for your frame. This saves the time of sending your frame to the lab. Angie passed her CPO exam in 2008.
---
Melissa Hoak, CPOA
Melissa (Missy) became a member of the team in 2006 and has several roles with the practice. She is our recall coordinator (sending out your yearly appointment letters and making phone calls) and she is a tech on the exam side a few days a week. Missy passed her Certified Paraoptometric test in 2007 and her CPOA (Certified Paraoptometric Assistant) in 2011.
---
Joy Stiles, CPC
Joy joined the practice as the recall coordinator in 2005 and moved to insurance specialist in 2006. Her job is to make sure claims are filed correctly and to follow up on claims when the insurance company doesn't pay.  Joy became a CPC  (Certified Paraoptometric Coder) in 2011, the first year the certification was available.
---
Missie Deibert, MPPM
Missie finished her Master's in Management while her husband (Dr. Deibert) was completing Optometry School in Birmingham. It was only natural that she take over the business side of the practice. While she is often in a back office, you might see her assisting at the front desk or other area of the office as needed.
---
Dawn Bond, CPO

Dawn  joined our team in October 2014.  She assists on the patient care side and in the back office.  She is also our Contact Lens Instructor for those learning to wear contacts for the first time.  She passed her CPO certification in August of 2015.
---
Jodi Bolyard, CPO

Jodi joined us in 2017 assisting in the Optical with frame and lens selection.  Her prior experience as a SNA with great patient care skills gives her insight into taking care of our patients.    Jodi passed her CPO in 2018 and is working toward her optician license completing college level coursework through the National Academy of Opticianry.
---
Rachel Stockner
Rachel joined our team in 2021 with experience and prior certification from the American Board of Opticianry.  She can assist you with everything from frame selection and lens options to repairs and adjustments.  She is working toward her optician license.
---
Carolyn Burner

Carolyn joined us in 2019 after retiring from the US Post Office.  We value her assistance helping with patient exams and making and confirming appointments, answering the phones and general office help.